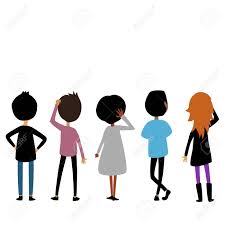 March 10, 2020 was the last day I taught face-to-face before my university responded to growing concern over COVID-19 and moved instruction online. It was my co-teacher's birthday, and we passed out treats on little napkins, weaving in and out of the wheeled desks, crowded into chattering groups.
Although I will likely finish the year teaching remote, public schools in my area return students to their full-sized, full-week patterns in a few weeks. It's common to hear teachers (and students!) say: 
I can't wait until all of this is over. 
I can't wait until things are back to normal.
I'm so glad we're back.
But I've also heard: 
I'm not sure how to do this.
I'm worried. 
I wonder what they need.
Considering a full year has passed since business-as-usual in many of our classrooms, here are five tips to consider as students fill our classrooms: 
Relationships. We start from scratch with students back in buildings full time. We have flipped summersaults to pursue as much together as possible: we have interacted online, on video platforms, with countless apps, hybrid. We have worked to build relationships and rapport with blank screens, no screens, with a few students at a time in settings where we normally juggle lively interactions, and build relationships over time. 
We have been in a relationship with an avatar, in some cases, and the online self of our students isn't the same as their in-person self. 
Carefully consider what you have believed about your students and their work. Just because a student didn't turn in work online, or seldom put their camera on doesn't mean they are unengaged, unable, or apathetic. Let them start over in building their learning identity, even if it's only a few weeks before the school year ends. 
Systems. Many teachers have told me that the strain of the pandemic made them feel like first-year teachers again as they worked tirelessly to create protocols for online classrooms, completely re-inventing what it means to turn in work, engage with content, or discuss an idea. Students are used to those systems now, and will likely need to relearn the processes that we took for granted.
Consider maintaining online systems for already-established practices like turning in homework or taking a quiz. If it has been working in an online setting, switching it to face-to-face doesn't necessarily make it better. If it requires a change for you or for students, there will be a cognitive lift that might create barriers to learning. 
Resources. Teachers already act as stand-in guardian, nurse, counselor, education assistant, snack-mom, cheerleader. The fact that teachers are trained to teach gets lost in society's expectations that reach far beyond our training and our time. Isolation in online classrooms removed many of these resources from quick access, and teachers have been doubly burdened. 
Make a list of the resources that you have forgotten! In effort to re-distribute support for students, consider what you have now that you didn't have before. What role does the resource play that is particularly important to your return to the classroom? When I considered this question, the first resource that came to mind was the library: books for me, books for them, class sets, references, a quiet moment, the laminating machine!
Social Structures. When I was in school, I had "class friends" who I only talked to during English with Mr. Magoon (yes, that really was his name), or across the aisle to compare math answers. Class friends often ignore each other in the hall, don't sit together at lunch, and feign indifference if someone in their friend group notices a chin nod of recognition:
How do you know HER?!
Oh, we had to work together once in Econ. 
Over the last year, student social structures might have been contained to church, neighborhood, or family. Some gathered in learning pods. Others still had NO social structure and interacted with only a sibling or completely alone while caregivers worked in another room or outside the home. We are all out of practice with each other, and students likely need time to relearn how to be with each other in an academic setting that is also social. 
Space. The distance between people is a new commodity. What we used to understand as space around cultural manners has been transformed into stickers on the floor, painted squared on a wall, tick marks on the sidewalk, reduced tables and immovable chairs. As we return to full classrooms, teachers have different levels of comfort around the use of space, and districts and building administrators promote a variety of allowances and protocols. 
Imagine an empty teaching space. In your mind (or on a piece of paper or app), clear everything from the room. Consider your priorities for Relationships, Systems,
Resources, and Social Structures. How can physical space accommodate what you value the most right now? How can you–with a few of your colleagues–create learning spaces where before there was a seldom-used corner, a bigger-than-necessary area for your desk? For the next few months of the school year, as we privilege moving students to the classroom, maybe there are things in our classroom we don't need that are taking up valuable learning real estate? Maybe the hallways or stairs become collaborative space? We might need to find a trade-off for being together in the new space economy.
Logistical solutions work up to a point, but what I have found most useful the past year is an extra measure of grace–for my students, my colleagues, and myself. As always, we will move forward successfully when we move forward together.